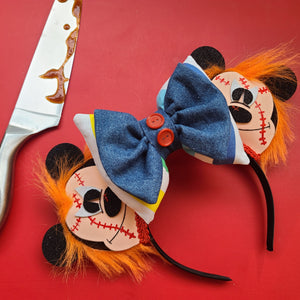 Good Mouse Doll Puffy Bow
This pair of puffy bow ears consists of a rainbow printed cotton with a denim small bow stacked on top. It has 2 red buttons in the center of the bow. Chucky Mouse is on both ears with a orange fuzzy trim. 
Bring the magic home in our themed ears! Each pair is special to you and not one pair is exactly the same as the other. All products are handmade with love and we hope you get the chance to add DFLove to your collection!
Shipping takes an additional 1 to 5 business days. Shipping rate is based off weight. All items under 16 ounces are shipped First Class and anything over will ship Priority Mail, which takes 1 to 3 business days. 
LARGE ORDERS: Orders with 6 items or more, please notify me ahead of time of this purchase. We would like the chance to review your order ahead of time and give you a different production time and shipping rate. PURCHASES WITH 4 ITEMS OR MORE will ship in 4 to 6 weeks, if I am not contacted ahead of time. 
XOXO,
Jasmine (owner of This Dysfunctional Love)
*Please be advised that little details may change, this might include headband color or trim design etc. Nothing will ever skew the magic of the character or theme involved, just sometimes things run out and changes must be made! We try our very best for this situation to never happen, but hey we're all human.